Hello again, Stefanie here again. I just have to confess that sometimes I am stumped. I have a great kit to use, even have a photo but just do not know where to from here. I was feeling a little down in the dumps, thinking that it has been five months since my Mom passed away and that grief has a funny way of settling and staying a while.
I found this great quote: It's so curious:  one can resist tears and 'behave' very well in the hardest hours of grief.  But then someone makes you a friendly sign behind a window, or one notices that a flower that was in bud only yesterday has suddenly blossomed, or a letter slips from a drawer… and everything collapses.  ~Colette
This totally sums it up for me. The weirdest unexpected triggers, a knife that she sharpened, my daughter's drama production. So I did what I love to do, checked out inspiring layouts in amanda's Gallery, and I found this one.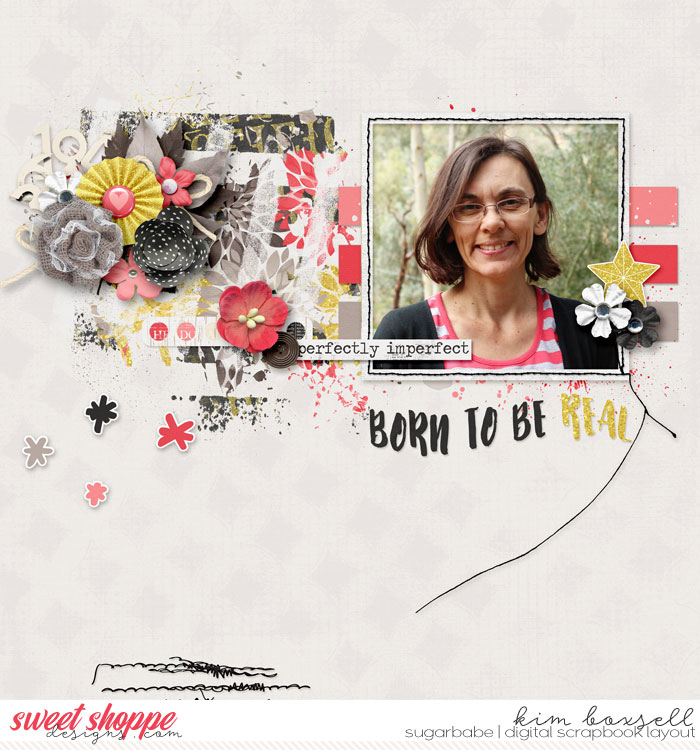 I absolutely scraplifted it.
I started with a darker grey background paper, to evoke the same feelings of drabness/colourlessness that is in my heart. I used the same kit, Be Positive, Imperfection is Real that Kim used. I made a large title that hooks the viewer in to read the details, a hand written type font by Darcy Baldwin – called DJB Constance Beauregard A strip of striped paper that includes all of the colours within the kit and perfectly ties all of the elements together. I used stitching and stringy bits for a pop of dimension and left a lot of white space, as in the scraplifted example.