Hello, it's Stefanie here again. I know that life gets busy and we feel that we have so many moments to capture and document, but I still encourage you to stop and think about yourselves. I saw a wonderful journaling prompt yesterday: Rainy days and Mondays and thought Ooh, love that! In honesty though I feel differently about Mondays than rainy days so I started with rainy days. How do rainy days make you feel? Love them or hate them? How if anything do they impact on your lives at home? Your routines and schedules. Get these stories told as life changes from before kids through youngsters and school years to the empty nest stage. How you feel about the weather can also change through the years. Some of my friends hate the wind, which living in Cape Town blows  regularly. I don't mind the wind as it keeps things than cooler and I hate the heat.
My journaling tip: if you have a lot to say it is always safer to type it up in word and then copy and paste it into your layout to avoid typos, spelling mistakes and the like. 
Rainy days and Mondays always make me down, sings Karen Carpenter, a song from my youth. To be honest though I love rainy days – provided I don't have to go out in them. If I am at home, the children safe and warm with me then I am all good. We can snuggle, watch tv, cook and everything is rosy. However if I get caught out in it, the weather starts off sunny and then the rain comes seemingly out of nowhere, it can impact my mood. It flattens my hair and then I have a bad hair day on top of everything else. I can get very grumpy if the washing gets drenched, it has happened on three loads all out on the lines happily blowing in the breeze and then suddenly…a cloud burst. I do find it easier to be happy and chirpy when the sun is shining, but the quieter pace during the rainy weather is welcome. Extra mural sports are cancelled, the stores stock soup mix, the kind I just have to add water too and forget while it simmers away, making home smell cosy and inviting. The dams fill up and we need it. The plants love it, the snails all emerge happily and the cats cuddle up to the humans. We have everything we need and the rain is a sign of God's blessing, which is wonderful too.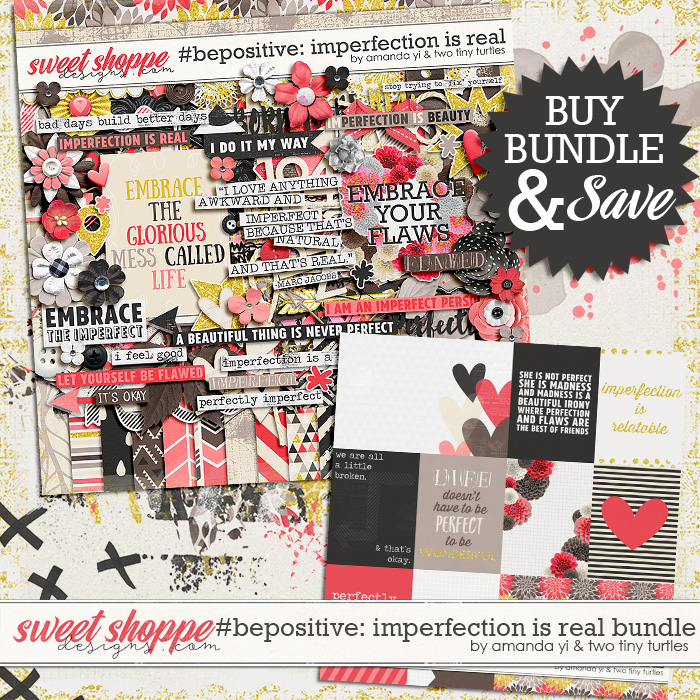 I used #bepositive: imperfection is real by Amanda Yi Designs and Two Tiny Turtles, available at Sweet Shoppe Designs.