Hello Stefanie here again to show off the new designs in Sweet Shoppe Designs that Amanda Yi Designs has created especially for you.
A digital scrapbooking collection by Amanda Yi, Hello Little One, celebrates that new cuddly bundle of joy that will enrich our lives forever. This tiny little miracle can be documented day by day with sweet nursery quotes, neutral elements and papers that let your photos shine. Capture every loving moment because it goes by so very quickly! Perfect for parents, grandparents, godparents, aunts, uncles, and anyone else who falls in love with a sweet new little one!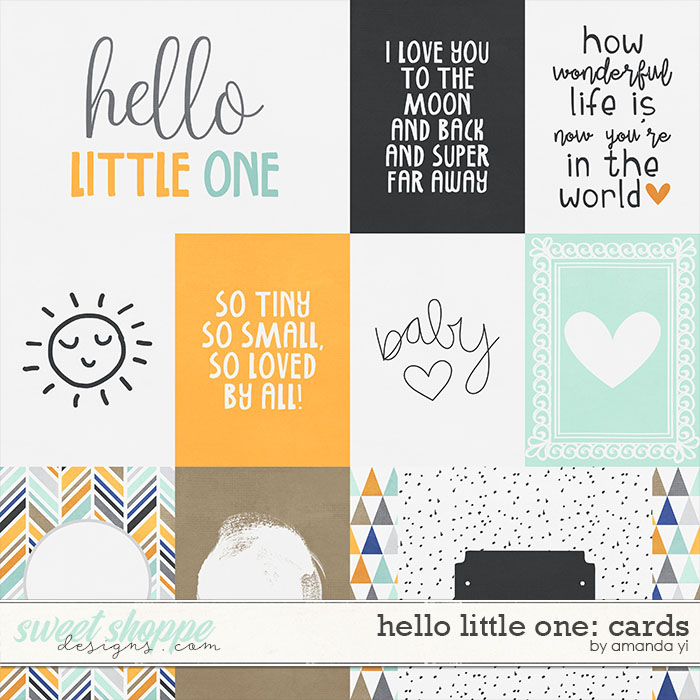 Get the Self-Love: Pampering collection in one money-saving bundle!
Kit: Check out this digital scrapbooking kit by Amanda Yi and Meagan's Creations. When was the last time you had some me time? Treat yourself to some self-care and pampering! Perfect for the spa day or at-home pampering, these beautiful and colorful kit is perfect for your memory keeping! Includes a sparkly kraft alpha, 16 patterned papers and 11 solid papers. and 101 elements including: doodles of a bath tub, bubbles, cucumber, candles, eye lashes, 3 flowers, a girl in a towel, 3 doodled frames, 2 doodled hearts, hot stones, lotion bottle, lotus, polish, stones, towels, doily, 10 silk and paper flowers, 2 foliages, hearts scatter, 9 blank labels, 6 paints, tag, 4 washi tapes, bath bombs, 2 silk bows, 2 paper butterflies, 4 buttons, door hanger, paper frame, resin frame, 4 paper hearts, lace, lotion bottle, nail polish bottle and wand, perfume bottle, petals, 4 ribbons, sequin scatter, sleep mask, and word art with phrases: "recharge", "refresh", "relax", "Spa Day", "Love Yourself", "Me Time", "Pampering", "Pedicure", "Manicure", "Massage Time", "Love Yourself", "Time for a Facial", "Indulge", "Self-care", "Time to Relax", "Squeaky Clean", and "I Smell So Good".
Cards: A set of 10 pocket cards, 8-3×4 and 2-4×6 to coordinate with the Self-Love: Pampering digital scrapbooking kit by Amanda Yi and Meagan's Creations. Phrases include: "Pamper Yourself", "Less Stress More Facials", "Relax, renew, refresh", "And now it's me time", "touch the body, calm the mind, heal the spirit", "treat yo'self", and "you glow girl".